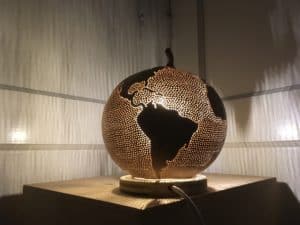 In 2015 is Lobi Lampu ontstaan in Suriname onder de naam Kalebaslampen Suriname. Daar is de passie voor het ambacht van het lampen maken van kalebas begonnen. Deze passie heb ik met veel mensen in Suriname mogen delen en daar ben ik dankbaar voor.
Eind 2015 woonde en werkte ik weer in Nederland en schreef ik mijn bedrijf in bij de Kamer van Koophandel, omdat ik mijn passie graag wil delen met Nederland.
Het is altijd bijzonder om iemand blij te kunnen maken met iets wat je zelf gemaakt hebt. Het licht van de kalebas lamp is magisch en brengt elke keer weer verwondering. Het geven van workshops geeft mij energie. Het is prachtig om te zien hoe verschillend iedereen te werk gaat en hoe blij men is met het eindresultaat, een prachtige kalebaslamp.
Of je nu een lamp wilt kopen of er zelf een wilt maken in een kleinschalige workshop. Bij mij ben je aan het juiste adres.
---